Car Maintenance Checklist - Product For Auto Maintenance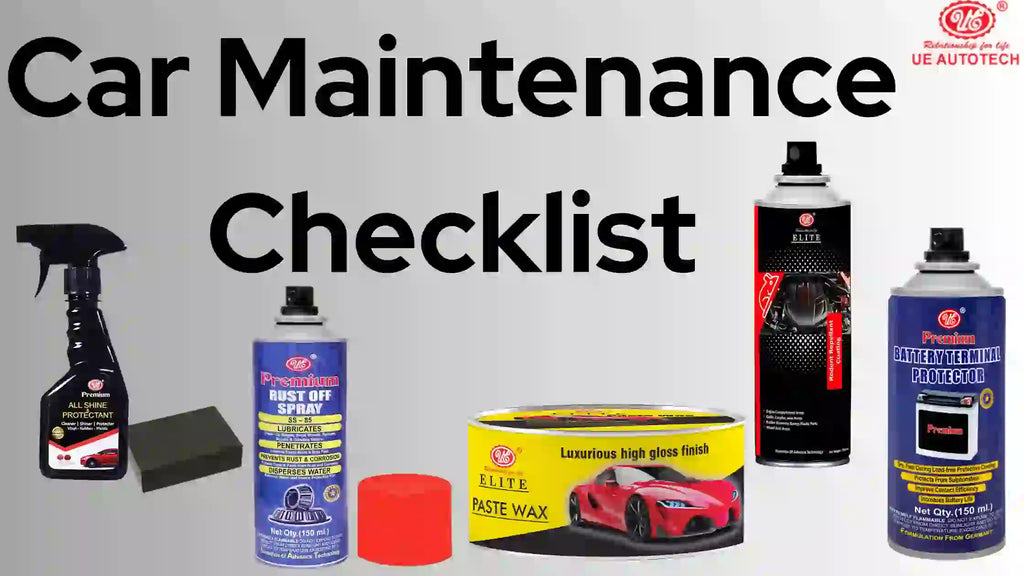 To maximize the performance of your vehicle you must have to use the best car maintenance products. These products will enhance the life and performance of your vehicles. Here we have rounded up a Car maintenance checklist. Through this, you can choose the best product to improve the life of vehicles. The products are very easy to use and you will also get to know about the best platform where you can purchase them. A single stop to purchase the best product for auto maintenance.
So, what are you waiting for, scroll down and get to know about the best product that you are willing to buy for better performance of your car.
List Of Best Car Maintenance Products
The list of car maintenance products is very long and wide. You will get to know about the multiple products to enhance the performance and look of your car. Whether you are a manufacturer or a user you can purchase any of the product at a budget cost. The prices of each product are budget friendly
The above-mentioned list is just a brief checklist to understand the name of each product before knowing about it in depth.
Below you will get to know about every item that you can use according to your requirements.
Products For New Car In Showroom
The above list of Car Maintenance contains all the products that a user or manufacturer can purchase. From the mentioned checklist you will get to know about the best products for new cars in a showroom.
All Shine & Protectant
All Shine is one of the best products for car maintenance to keep the vehicles shiny. You can use this product directly on your car and rub it with the help of a soft microfiber cloth. The product is premium in quality and generally use to clean the upper coating of the vehicle. The product will give you an amazing extra shine that keeps your customer happier. The cost of the product is reasonable and you can buy this product directly from the manufacturer. UE Autotech is one of the best automotive product manufacturers near me. So, have a great chance to deal directly with the manufacturer and purchase in bulk at a budget cost.
Anti Rust
Most of the time a new car buyer complains due to the rust on the car. So. to avoid this kind of complaint after selling a car within 1 year you can use an anti-rust product. You can apply this product to the car to make it rust-free. You can apply this product on Up Hinges, Small Wheels, rust bolts, and nuts to keep them rust-free.
Windscreen Washer
Windshield washer is an amazing product to remove all types of marks cleaner dust remover, and Fluid Concentrate Fast Cleaning Rain/Water Drops for Safe Driving. When you use this product then you will not face any kind of droplet issue on your car windshield. The product is worth it during the time of the rainy season. Due to this, you can abolish all the droplets mark from your windscreen. You can mix this 50 ML windshield washer in 1 liter of water.
Glass Cleaner
Whether you are a service provider or a home user you can buy this best glass cleaner product. With this, you can clean any glass and make it shiny without any extra effort. Just spray it on the glass and wipe it using a soft microfiber cloth. It is very simple and carry to use. By using this you can simply remove all strains, grime, and fingerprints. The specialty of this product is that you can not only use this product for the car but also for home and office purposes.
Rodent Repellent
Most car users want to prevent the cables, wires, rubber components, houses, seats & more from the rat bite. So, this rodent repellent will help you to keep your vehicle safe from these mice. Just spray this rodent repellent in your car at night and avoid use of your car for 3-4 hours. After 3-4 hours you can use your car. This will keep your car safe from inner damage for 4-5 months easily.
Battery Terminal Coating
To increase the battery life of your vehicle you can use this battery terminal coating. You can spray it on a battery terminal and cable connector. The spray is user-friendly and use by a car owner or a service provider. Whether you purchase a large container or a small one it is very affordable for all users. You can apply this on the following parts Battery Terminals, Delco caps & Plug wire sets.
Paste Wax
For the luxurious high gloss finish and shine on the product you can use paste wax. It is hassle-free and easy to use for all the buyers. Just use the wax directly on your vehicle in a circular motion and buff it with the help of a soft cloth or buffing machine. For the excellent result, we recommend you use the buffing machine. You can use rubbing compound paste wax to remove any kind of minor scratches from your client car or your personal one.
Micro Fiber Cloth
For cleaning vehicles we usually use a regular cloth. But have you ever noticed that due to the use of this regular cotton cloth, you are losing the shine of your vehicle?
To maintain the shine and gloss look of your vehicle you can use the microfiber cloth. This is soft in designed to keep your vehicle glossy user a use. With the help of this, you can avoid scratches while cleaning your car or other vehicle.
You can use this cloth for multi-purpose cleaning glasses, wooden furniture, and other elements also.
Note-  Most of the above-mentioned products are used for new Car Maintenance. Through this users will get satisfied with the services provided by the showroom. One or two products you can use for multi-purpose in your home, office, and vehicle.
Car Maintenance Product Checklist For 1st Service By Service Station
As per our research, most of the following products are used by the 1st service by a service station. Otherwise, users can also use these products directly on their own. The products are very simple to use and do not need expert knowledge. Just go with the instruction mentioned on the product and utilize the benefit of them at a budget cost.
Interior Foaming Cleaner
Most of the time we find that the interior of our is not shiny and dirt or dust on the seats, seat belts, or roof dashboards. So, for cleaning this mess you can use a car cleaning interior foaming cleaner. By using the Interior foaming cleaner you can clean Plastic, Leather, Vinyl, Rubber, Car Interiors, Doors, PU/Leather Seats, Laminates & Plastics.
Simply spray it on the surface from a distance of 10-15 inches. Leave it for a few seconds and brush it off with a soft microfiber cloth.
Coolants
Your car's radiator is vital for keeping your engine cool and functioning properly. Having your coolant system flushed regularly will help get rid of contaminants that can build up inside as well as ensure that your radiator is filled to a proper level. As a leading coolant manufacturer, we formulated the best car radiator coolant - UE Premium Radiator Coolant that provides excellent protection and can withstand corrosion against all cooling system metals. Fully compatible with rubber components and hoses. It does not contain silicate, borate, nitrate, and amines.
Car Cleaning Kit
A car wash kit is every car owner's necessity. Having one is like equipping yourself with anything and everything to maintain your car's good looks and appearance. Check out UE Car Cleaning Kit that includes dashboard polish, car wash ultra-cleaner, and hi-gloss liquid wax - all in one! Having this kit handy makes it easier, more convenient, and more comfortable for you, especially if you are the type who is always on the go.
Engine Oil Additives
Engine oil additives improve lubrication, and performance in extreme temperatures and extend the life of the engine oil. It gives numerous benefits such as better fuel mileage, longer service intervals, and reduced engine noise. UE Premium Oil Treatment has been designed to give extra protection to the engine against extreme heat and let the engine function at its best until the next oil change.
AC Disinfectant Foaming
Getting a good AC disinfectant spray will ensure a proper cleaning for your vehicle. These car disinfectant sprays will keep you and your loved ones free from infection due to dirt or pollutants in the car. UE Air Conditioner Cleaner & Disinfectant Foam is a foamy cleaner and disinfectant for use on automotive air conditioner coils, ducts, and lowers.
4-Way Spray Lubricant
lubricant is an absolute must-have for anyone who loves their vehicle/machinery. UE 4-Way Spray Lubricant spray is a multipurpose light oil formula for automotive, industrial, and marine maintenance repair. It is designed to protect small machinery, hand, and power tools from corrosion. This product lubricates moving parts and displaces moisture to dry out electrical parts.
Dry Wash
If you want instant washing touch to your vehicle washout wasting time and water then you can use a waterless cash wash option with the dry wash. It is one of the convenient way to wash your car just in few minutes.
What are The Essential Car Maintenance Tasks That Should Be Included in a Checklist?
A car maintenance checklist contains multiple tasks such as engine oil level and quantity, inspecting the tires for the ware and proper inflation, also check breaks and lights, checking the battery, inspecting the belts & hoses, checking the coolant & other fluid levels, inspecting the filters, and ensure that wiper is in a good condition.
Conclusion - Checklist Of Product For Auto Maintenance
The above-mentioned list will help you to choose the best product that you are looking for. All the mentioned products are reasonable and easy to use. You can purchase it directly from the online store of ueautotechs. The products are reasonable as compare to the other provider.