Why Do You Need To Use a Contact Cleaner On Electrical Components?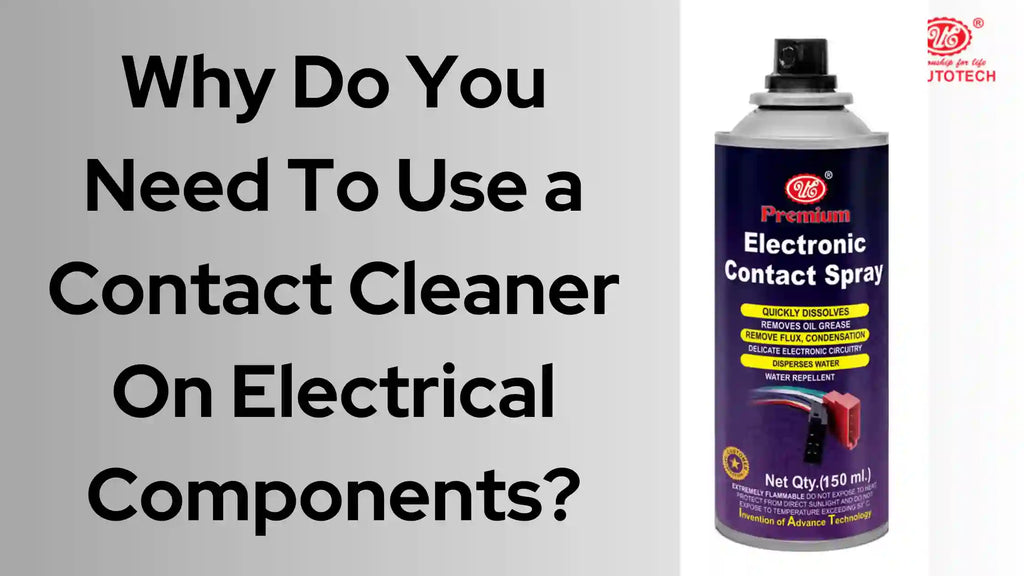 Are your electrical contacts getting dirty, and causing some electrical malfunctioning? Then this situation must have stirred up several questions about cleaning electrical components. Some people might be tempted to get them cleaned with water, but this can lead to rust and other issues. Hence, it would be beneficial to opt for contact cleaner on electrical components. Read on as we discuss the reasons why you need to use a2 contact cleaners on electrical components.
What is an Electrical Contact Cleaner?
A contact cleaner is also known as an electrical cleaner, switch cleaner, or electrical contact cleaner in the market. It is one of the best industrial care products that is easy to use. It is a solvent cleaner designed to remove contamination from electrical contacts. You can simply apply this on the conductive surfaces of connectors, switches, and other electrical and electronic components with moving surface contacts. The goal is to quickly remove insulative contamination as quickly as possible, avoiding a lot of wiping and scrubbing if possible.
Reason To Use a Contact Cleaner On Electrical Components
To maintain the performance and reliability of your electrical component you can use contact cleaners. Whether you are an electronics enthusiast, a professional technician, or simply dealing with household devices, understanding why contact cleaners are necessary is essential. Below you will get to know about the all benefits and reasons to use the contact cleaner on electrical components.
Preventing Corrosion
Electrical components connect with corrosion very quickly due to exposure to moisture, dust, and other contaminants. An increase of this corrosion on the electrical components can lead to poor performance such as conductivity, intermittent connections, and even complete failure of the component.
Contact cleaners are specially designed to remove corrosion, oxidation, and other residues from the electrical component. Through this, you can simply enhance the performance and connectivity of the components.
Why You Should Choose The Best Electrical Contact Cleaner?
Cleaning the objects with the best quality electrical contact cleaner at regular intervals doesn't only maintain the shine but also improves the performance. But, here's a thing - Not all of these online electronic contact cleaners are the same in terms of quality. As one of the leading automotive industrial maintenance products manufacturers, we've formulated high-quality electrical contact cleaner spray. Check out UE Premium electrical contact cleaner fast-drying spray. It is designed to clean electric motors and other heavy-duty electrical and mechanical equipment. It is one of the most relevant & needy product in the list of car maintenance products. It works effectively and removes oil, dirt, and wax completely which are the most apparent causes of leakage and other inefficiencies.
Reasons To opt Contact Cleaner For Electrical Components
Contact cleaners help to remove accumulated dust and corrosions of electrical contacts.

Contact cleaner is solvent enough to get dissolved or evaporated by removing debris.

The contact cleaner is easy to reach through conductive surfaces of electronic components where there are switches, connectors and has electrical sensitivity and insulators to avoid scrubbing or frequent wiping to prevent any damage.

Copper, Graphite, Steel, Tungsten, Silver, and other metallic alloys needed to get cleaned and prevent oxidation, for which contact cleaners are best.

These premium electric contact cleaners are cost-effective as well, as compared to other solutions they are easy to use, and pocket friendly.

Its nature of non-conductivity makes it more useful to eliminate the danger of short circuits by restoring electrical conductivity.

Cleans your bike derailleurs, and your bike chain, lubricates bike chain, removes dust and moisture from the circuit board, electrical contacts, switches, sockets, precision instruments etc.

It has great penetrating levels to penetrate through the rusted nails for cleaning purposes.

Lubrication with cleaning is a good deal that comes along with a contact cleaner.
Bonus Tip: Electrical Contact Spray Supplier In India
For automobiles, not cleaning your electrical surfaces often can cause your vehicle to stop running. Thus, it is beneficial to clean your electrical contacts often and incorporate it into your maintenance plan. However, because different users have different contact cleaning needs, not every formulation of contact cleaner is the same. Three considerations will help you choose an electrical contact cleaner that meets your equipment maintenance needs: Composition of Contacts, Space between Contacts, and Purpose of the Cleaner. Choose smartly!