How To Detail A Car Completely Like Professionals?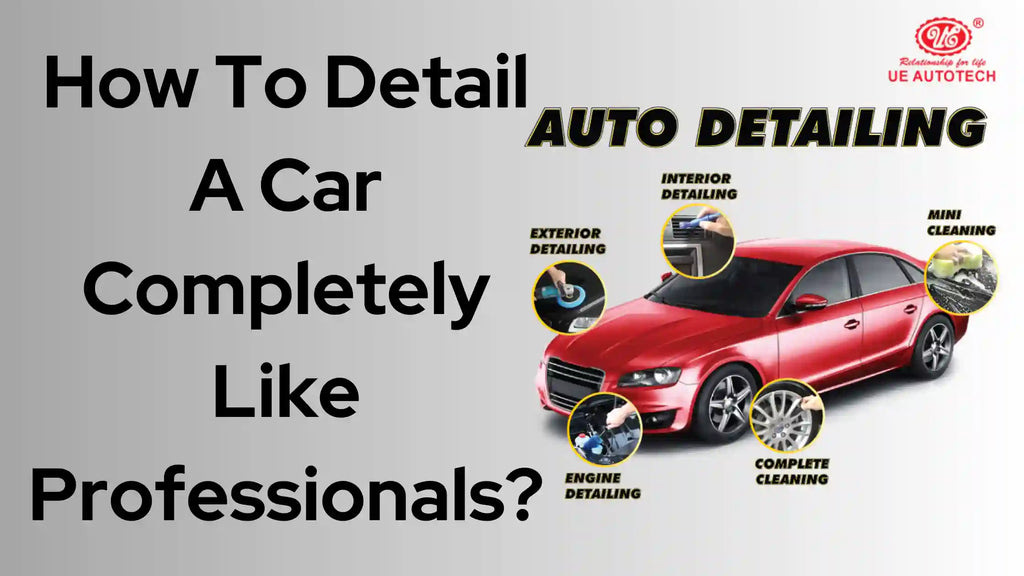 Most of the time you are not in a mood to book an appointment for car service & waste you time. So here is an best alternative to it. You can enhance the beauty of your vehicle in you Home by using the best car detailing products. With these product you will easily understand about how to detail a car completely like professional. By using the vehicle detailing products of UE autotechs you can unveil the beauty & performance of your vehicle.
What Is Car Detailing?
Most of the people are confuse between the car detailing and car washing. They think that both are the same process but they are wrong. Both process varies.
AutoDetailing work quite deeper than simply cleaning your car inside & outside. Otherside, Car washing is only related to the cleaning of car from inside and outside.
Auto detailing of the car starts with the car washing & vacuuming. After that they use the more detailing and specialized tool for deeper cleaning. Car detailing also consist the process of detailing of car for inside & removing parts cleaning them.
If you are wiling to do car detailing of your car or other vehicle by your own then you can use the smart products of the UE Autotechs. The products are formulated by the experts and use to reduce the damage and improve the condition of your car.
How To Detail Car At Home?
For detailing a car at home you will need several specific tools, car detailing maintenance products & few things might be have in your home. 
First fix a couple of few hours for your car detailing if your car is just few years old. You can do it mean time if your car regularly washed & vacuumed. 
On the otherside if you car is very old & not cleaned & vacuumed for long time then it could take your whole day for detailing.
Why Should I Detail My Car At Home?
Most of the time the question will bother you "Why to bother myself for detailing a car when I can pay an detailer to do it for you"
The question is tempting when your car detailing takes a whole day. But for few detailing you can go with the car detailing at home.
You can save the labour charges by detailing car at home. You only have to buy all car detailing product at once and you can use it many time that is affordable as compare to the detailing in showroom.
You can know about the process of cleaning a car and what type of product they can use. You can enhance the performance of your car by cleaning your car on daily basis. If you choose car detailing in home then car will last longer. Auto car detailing is all about long term protection from the various elements.
Professional and DIY car detailing is quite similar. Most of the car detailing service provider use professional products such as UE Autotechs Company products. You can also buy these products from the official website of Ueautotechs.com.
Start cleaning your car with the special & affordable products from inside and then go with the exterior detailing.
Interior Detailing Products And Steps
To add professional look in your car by your own you need to understand first about the best car detailing products & tools. You can use the following products for car detailing form inside:-
After buying all these products you have to follow some basic steps for cleaning car interior.
Take a trash bag & 

latex or nitrile gloves.

Pick up all the dirt that is too bog for the vacuum cleaner to pick such as old napkins, food wrappers, car parts, loose coins, else. 

Also check these areas to pick all the dirt glove box, console boxes, door cubbies, cup holders, and change bins.
Remove all floor mats and clean these separately.
For cleaning mats, seats & roof of the car you can use a UE Elite Foaming Cleaner and UE Elite Car Wash Shampoo to clean rubber mats. 
Use the vacuum cleaner to remove all the soil & small particles.
Pro Tip: Use a wet-dry vacuum to suck out as much water from carpeted mats to accelerate drying.
Remove Unpleasant Odors
To remove the unpleasant odor from the interior you need to clean the AC of your car. You only have to use the AC disinfectant spray to compress all dust & dirt from air compressor or electronics duster.
To use this product & remove the unpleasant odors you need to follow these steps:-
Keep the AC off and remove the cabin filter & put the phone on high speed.

Then set the can and close the door of your car for 15 to 20 mins.

This will circulate the deodorizer throughout whole cabin for a long-lasting clean and fresh scent.
By cleaning your car interior such as engine, radiator, & other interior parts you can keep your car performance more impressive. You can reduce the car overheating issue by cleaning it.
Refresh Your Upholstery
Next clean the hard surface of the car liken plastic & other ares by using the dashboard cleaner. Keep in mind to use the microfiber cloth to clean any surface of your car ultra shine finish.
Conclusion
To clean you car with the car detailing product at home you can go with the mentioned products. By using the mentioned products you can simply boost the performance and look of your vehicle. Products are easy to use and give effective results for car detailing like professionals.